There is a large market composed of the numerous post-war "baby-boomers", now in the retirement range, but who also have enough wealth to enjoy their remaining years in luxury and comfort and have more free time to spend at sea on a comfortable but suitable sailboat.
However almost all sailboats currently in production have those four or five steep steps going down to the dinnette, which makes it difficult and dangerous for the ever-more unsteady legs of aging sailors. In fact most sailboat owners cannot invite onboard those friends close to and over 80 years of age for fear of having them fall down the steps.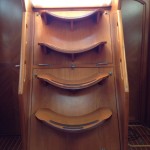 It would be therefore advantageous to the keen boatbuilder to think of a more practical boat for possible oncoming athletic limitations and disabilities of this large potential market. The Moody boat-builder has come close to satisfying this need, with its one-level cockpit-saloon line, but falls short in other aspects.
This one-level platform is ideal, as it also gives you the 360 degree visibility from a seated position in the saloon. The elderly tend to spend more time at anchor or in the marina, rather than sailing up and down the coast just for the fun of it, as the young will do. As they also pass many months of the year on the boat, having a good all-round visibility helps them pass the time and keep track of events outside. The two steps down of Beneteau's Sense is also good, but it does not provide the fully raised deck-saloon with the 360 degree visibility.
Some further observations:
1 – For use in the Mediterranean, which is the most popular destination of all European sailing boats, where one frequently descends for a swim in the warm water, the sugar-scoop stern is unbeatable.
2 – There should also be a mechanism for launching and recuperating the tender and motor with ease from the garage on the larger boats. One normally manages this with electric winch on the halyard for the tender on the fore-deck and with a hoist for the outboard motor, but this is troublesome for the aging couple, especially if one already has back problems,
3 – Wives, and women generally, hate sailing boats that lean over (which is almost a conflict in terms!) To avoid this, one always must reef quickly, as sudden gusts of 40+ knots of wind are frequent in some parts of the Mediterranean, so inmast furling is essential. A chine on the hull can also help keep the boat from leaning over excessively, as also a water ballast tank, so these should also be considered on the "perfect" sailboat.
4 – As some women tend to be slightly claustrophic, well-illuminated cabins are essential on a sailing boat, so there should be large overhead hatches in the master cabin, and large side windows; this also for safety's sake for those wives who like to keep a frequent, prudent look-out when reading in bed under sail.
5 – Liveaboards consider their boat to be a "villa on the sea" and enjoy receiving guests on board, but normally sail alone, or at most with another couple when available. So they do not need many cabins, but the guest cabin should be special and very comfortable, suitable for another elderly couple's needs.
6 – Elderly persons tend to dress up more and attend to formal occasions ashore, so they need ample wardrobes for hanging suits and evening dresses. Perhaps one should eliminate one of the cabins in favour of an office and extra wardrobes. One tends to keep working, even after retiring, so some office space is useful.
If boatbuilders will heed this advice they will profit from satisfying a large market and help keep many couples sailing happily and safely into a very old age.
Lorenzo Camillo
www.mediterranean-yachting.com/MabiTwo/index.htm